Schutt Sports introduces high tech sensors to chin straps
03 / 2 / 2016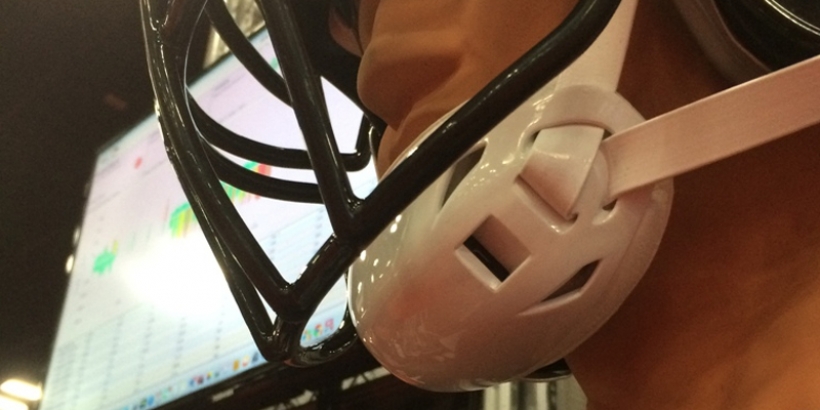 Schutt Sports today announced a partnership with GForceTracker Inc (GFT) that will utilize the company's industry-leading head impact monitoring technology to help improve football safety. Beginning this year, the football helmet maker will begin placing advanced, athlete-monitoring sensors in new SMART Chin Guards™.
"Adding the GFT technology to our chin strap line is the beginning of what we see as an overall trend towards engineering the protective equipment worn by athletes to monitor both safety and overall performance," said Robert Erb, President and CEO of Schutt Sports. "We're going to start with this technology, which measures linear and rotational velocity of impacts, as well as counts the number and severity of impacts. The sensors are also able to monitor real time activity levels, analyze player load, predict athlete energy reserves – a complete athlete monitoring system."
The new chin straps will feature the same GFT athlete monitoring technology that is already proven and widely used in many other helmeted and helmetless sports.
"Anyone involved in the care of our athletes can now make an informed decision to implement head impact and performance monitoring," said Erb. "Whether it's the schools, clubs, parents, certified athletic trainers or coaches; it's as simple as using this new SMART Chin Guard™." All of the data is collected and analyzed in real time by a wireless GFT software monitoring platform called Eye in the Sky.
The GFT technology, which uses sample rates three times faster than any device currently on the market, enables true recording, reporting and recreating of all head impacts in real time. The Eye in the Sky software platform instantly transmits feedback and data, including notification of impacts over a certain threshold, to the sidelines, allowing coaches or medical personnel to immediately assess an athlete and make appropriate decisions.
"Partnering with Schutt Sports, the leading technology brand in football, is a significant milestone for GFT, as we look to accelerate both our brand awareness in this growing market and the adoption of athlete monitoring as a viable way to help make football safer," said Paul Walker, CEO of GForceTracker. "With the most recent focus on head trauma in the NFL, and the safety of football in general, the use of GFT technology in the SMART Chin Guard™ will give us the capability to monitor, measure and accumulate every single impact of a player's career. That capability will eliminate some of the guessing as to what's happening on the field."
The sensors deployed in the new chin straps utilizes the same Hit Count® Certified electronics incorporated into other innovative GFT monitoring products used in other sports like hockey, lacrosse and soccer.